Sankt Andreasberg
From hms.sternhell.at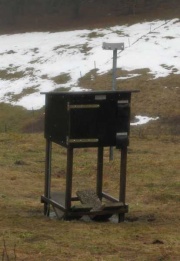 Lightmeter in Sankt Andreasberg, Germany
Maintained by "Verein Sternwarte Sankt Andreasberg e.V.", Michael Koch
Site Info
Longitude: 10.522°E
Latitude: 51.715°N
Elevation: 625m a.s.l.
Sankt Andreasberg has a population of 1,810
Observation
First light: Feb. 11th 2011
Sensor 037 was replaced by sensor 038 on 23. July 2011
Installation
The detector is mounted 2m above ground on a free-standing station. Lights from nearby houses are shielded (less than 20° above horizon).
Results
http://www.astro-electronic.de/lightmeter.htm
http://dc.zah.uni-heidelberg.de/lightmeter/q/upload/static/DE_SANKT_ANDREASBERG_1/
http://dc.zah.uni-heidelberg.de/lightmeter/q/upload/static/DE_SANKT_ANDREASBERG_2/
Kontext
http://www.nationalparkhaus-sanktandreasberg.de/ http://www.sternwarte-sankt-andreasberg.de/nabu.html
20:13, 24. Aug. 2011